Advanced Registration Required
Want to take a 3D printing class but worried about social distancing and face mask? Try our virtual 3D printing enrichment class from the comfort of your home! Our in-house-developed project-based curriculium is unique and is tested in shcools and libraries. We also released a book kit based on our teaching experience.
Our virtual programs are fun, interactive, and eye-opening. Also, you will receive 3D prints of your designs in mail. Show your 3D prints to your friends and remote family members. The fun stays long after you finish our class.
Toysinbox 3D Printing is located near Wellesley Free Public Library. We have been offering 3D printing & 3D modeling fun activities to K-12 students in schools, libraries, conferences across the nation, and in our store since 2015. Tens of thousands people have enjoyed our fun activities. What are you waiting for?
3D Printing Enrichment Class in September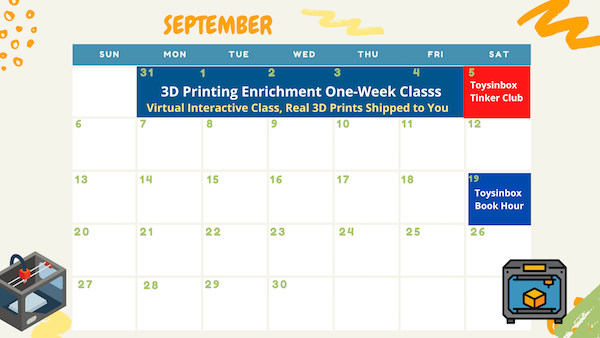 Hello 3D Printing
one-week long class, Zoom meet each day, Mon-Fri,1:30-2:30
Available sessions: August 31 - Sep 4
* * Toysinbox instructor will first briefly introduce you to 3D printing. * *
* * Then, the instructor will guide you to finish 3-4 projects step by step. * *
* * Each time you finish a 3D modeling project, The 3D printing teaching assistant will 3D print it out. * *
* * You can watch your design in printing while you continue to work on other design projects * *
* * Each class is about 1 hour long per day and is great for ages 9 and up. * *
* * Your 3D prints will be collectively shipped to you via USPS in 1-2 business days right after the class is over. * *
* * $135/person, 3D prints shipping and handling charge are included.* *
* * Students need mouse, computer and internet access to participate.* *




Zoom Class Rules
1. Advance registration is required. Please register ALL members of your party.
2. For every two children registered, one adult must be present.
3. Act as if you are in a classroom - sit upright, pay attention, follow directions, and take turns speaking.
4. Be prepared - set up and be ready BEFORE joining the Zoom class - make sure your video and audio are working.
5. Toys, video games, cellphones, and pets are NOT allowed.
6. Wear appropriate clothing - we can all see you (or turn your video off)!
7. Choose an appropriate space at home to participate - no distractions and background noise (we can see and hear everything going on behind you...or turn your video off).
8. Turn your microphone ON when you are given permission and "called on" to speak - turn it OFF again when you're finished.
9. When you have a question, type in the chat and wait for us to call on you.
10. Do not share your screen unless told by the instructor.
11. Stay focused - don't introduce irrelevant distractions.
12. Participate - try to stay the entire time.
13. Please arrive 5 minutes before the class starts.
14. If your schedule changes, or you or anyone in your party can no longer attend, please email info@toysinbox.com

Advance registration is required. Select your time.
and let us know the time and program you want to register,
we will send you a paypal invoice and you can pay online.
Please contact info@toysinbox.com with questions and for registration.